Enter below for a chance to win
tickets to Jay's Book Tour!
enter below for a chance
to win tickets to jay's book tour!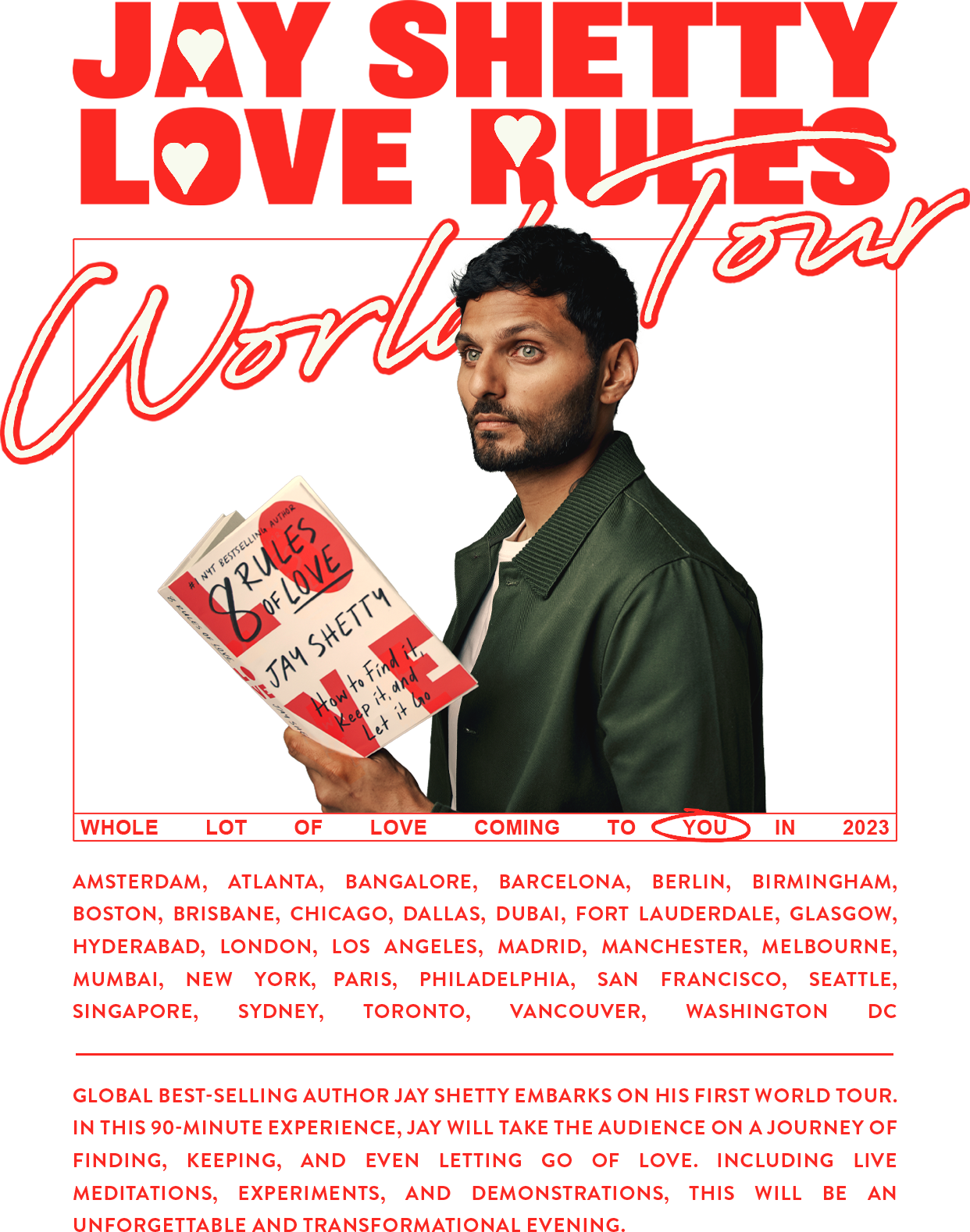 Official Sweepstakes Rules

NO PURCHASE OR PAYMENT IS NECESSARY TO ENTER OR WIN.
MAKING A PURCHASE WILL NOT IMPROVE YOUR CHANCE OF WINNING. ODDS OF WINNING WILL DEPEND ON THE TOTAL NUMBER OF ENTRIES RECEIVED. VOID WHERE PROHIBITED BY LAW.
ONLINE ENTRY ONLY AND INTERNET CONNECTION REQUIRED. BY ENTERING THE , SWEEPSTAKES, YOU AGREE TO THESE OFFICIAL RULES, WHICH ARE A CONTRACT, SO READ THEM CAREFULLY BEFORE ENTERING. WITHOUT LIMITATION, THIS CONTRACT INCLUDES INDEMNITIES TO THE SWEEPSTAKES ENTITIES FROM YOUA LIMITATION OF YOUR RIGHTS AND REMEDIES, AND REQUIRE YOU TO AGREE TO ARBITRATE ANY DISPUTES YOU HAVE WITH US, AND WAIVE THE ABILITY TO BRING CLAIMS AGAINST US IN A CLASS ACTION FORMAT.
The Joyo Tea "Win Tickets to Jay's Book Tour" Sweepstakes (the "Sweepstakes") is sponsored by Joyo Tea, Inc., a Delaware corporation (owner and operator of www.JoyoTea.com) with its principal place of business located at 382 Northeast 191st St., PMB 85223 Miami, Florida 33179 ("Sponsor").
1. ELIGIBILITY: The Sweepstakes is open only to permanent legal United States residents who (a) physically reside in one of the forty-nine (49) states of the United States (Rhode Island excluded) or the District of Columbia, and (b) are at least eighteen (18) years of age at the time of entry and not considered a minor in the legal jurisdiction in which he or she resides. Officers, directors and employees of Sponsor, 100.co LLC ("100.co") and the 100.co branded companies, and any other entity involved in the development or administration of the Sweepstakes (all such individuals and entities collectively referred to herein as the "Sweepstakes Entities" each a "Sweepstakes Entity"), and the immediate family or household members of the foregoing, are not eligible to participate in or win the Sweepstakes. The Prize Winner (as defined below) may be required to sign an Affidavit of Eligibility and Release (the "Affidavit") (where imposing such condition is legal), complete relevant tax forms as a condition to the delivery of the Prize (as defined below), and submit to and pass a confidential background check and Covid-19 antigen rapid test prior to the Experience (as defined below). Sponsor and no other party is solely responsible for the promotion, administration, and execution of the Sweepstakes, including, but not limited to, the collection of entries, and the selection of the Prize Winner. For clarification and the removal of doubt, 100.co is not responsible for the collection, submission or processing of entries, the administration of the Sweepstakes or the selection of the Prize Winner.
2. HOW TO ENTER: There are two methods of entries for this Sweepstakes, and you may enter as follows:
Option 1: NO PURCHASE IS NECESSARY TO PARTICIPATE IN THE SWEEPSTAKES.
To enter, you must fill out a short online form and fill in all required information to sign up for Sponsor's e-newsletter and SMS marketing text list, as further described on http://www.JoyoTea.com/_______ (the "Website"), between 12:00pm PDT on Wednesday, January 25, 2023 and 11:59pm PDT on Monday, February 14, 2023 (the "Entry Period"). Limit one (1) entry per person. Entries generated by script, macro or other automated means are void. The above methods are the only way to enter the Sweepstakes. No other method of entry will be accepted. All entries become the property of the Sponsor.
Option 2: During the Entry Period go to the Joyotea.com website located at www.joyotea.com and place an order will be automatically be entered into the Sweepstakes. You must also acknowledgment that you are over eighteen (18) and have read and have accepted these Official Rules.
By participating in the Sweepstakes, you will be agreeing that your registration and any other information collected in connection with the Sweepstakes maybe be used by Sponsor in accordance with its Privacy Policy and Terms of Service. You will be opting-in to receive solicitations from, and/or to become a member/participate in Sponsor's email newsletters and SMS marketing text program. You may opt out of marketing-related emails from Sponsor at any time by following the opt-out or unsubscribe instructions located at the bottom of any marketing email, and you may opt out of marketing-related text messages from Sponsor at any time by replying STOP to any marketing text message. Regarding entrant's subscription to Sponsor's text message communications, standard message and data rates may apply depending on entrant's mobile carrier.
The email address provided by entrants may be used to identify the entrant and, if selected for the Prize, the identity of the Prize Winner. In the event a dispute regarding the identity of the individual who actually submitted the entry cannot be resolved to Sponsor's satisfaction, the affected entry(ies) will be deemed ineligible. Sponsor expressly reserves the right to disqualify any entries that it believes in good faith are made in violation of these Official Rules. By participating, all entrants agree to abide by these Official Rules.
3. PRIZE: On or about February 16, 2023, Sponsor will select one (1) winner (the "Prize Winner") in a random drawing from all eligible entries received during the Entry Period.
One winner will receive two (2) tickets to attend a selected US location of Jay's Book Tour, including (i) one round-trip, economy-class air transportation for two people from the major airport with regularly scheduled flights; (ii) one (1) night standard hotel accommodations (one double occupancy room and room tax only) in selected city (capped at $300 per night including tax); (c) a $50 cash voucher to use for meals and other transportation at the Prize Winner's discretion during his/her trip to the selected city.
Approximate retail value ("ARV") of the Prize is One Thousand Five Hundred Dollars ($1,500). There is NO monetary value whatsoever associated with the possibility of shopping with Winnie Harlow. The Prize is not redeemable for cash or transferable; and no substitution allowed except, at Sponsor's sole discretion, for a prize of equal or greater value. Decisions of the Sponsor are final and binding with respect to all matters related to the Sweepstakes. In no event shall the Sponsor be obligated to award more than one Prize. The actual value of the Prize may vary depending on date and times of travel, airfare fluctuations and hotel charges at the time of travel. Therefore, the actual value of the Prize awarded may be lower or higher at the time it is fulfilled. Any difference between actual value and stated ARV will not be awarded. Travel is subject to the restrictions and conditions set forth below.
Prize Winner may be required to furnish proof of identity, address and birth date in order to receive the Prize and any other documents or information reasonably requested by Sponsor, including without limitation executing the Affidavit (where imposing such condition is legal), relevant tax forms, and submit to and pass a confidential background check and Covid-19 antigen rapid test prior to the Experience in the time period to be specified by Sponsor.
Prize Winner may be able to invite up to one guest to join the Prize Winner at the Experience, at the Prize Winner or guest's sole expense. The Prize Winner's guest must be 18 years old or over and not considered a minor in the legal jurisdiction in which he or she resides and will be required to execute and return to an Affidavit (where imposing such condition is legal) and any additional documents required by Sponsor in connection with the possibility of attending the Experience (including without limitation submitting to and passing a confidential background check and Covid-19 antigen rapid test) in the time period to be specified by Sponsor. If Prize Winner's guest is ineligible to accompany the Prize Winner at the Experience, Prize Winner will need to attend the Experience by himself or herself.
Any costs associated with the receipt of the Prize and/or use that are not expressly stated above are not included in the Prize and are the responsibility solely of the Prize Winner and his/her guest. Such costs may include, without limitation, any ground transportation, any unspecified state or local taxes or government surcharges or fees, service charges, facility fees, security fees, passenger tariffs or duties, trip and travel insurance and premiums, meals, room service, parking fees, drinks, incidentals, gratuities, telephone calls, standard message and data rates, charges for changing dates or other personal costs and expenses not specified herein and are the sole responsibility of the Prize Winner and/or his or her guest. All Prize-related travel arrangements will be administered by Sponsor in its sole discretion. No changes will be made to travel details once any element(s) of the travel arrangements have been booked, except at Sponsor's sole discretion. All airline tickets issued in conjunction with the Prize are not eligible for upgrades, frequent flyer miles or any other promotional benefit. Sponsor will not replace any lost or stolen tickets, travel vouchers or certificates or similar items once they are in the Prize Winner's possession. Prize travel is subject to capacity controls, availability, blackout dates and certain other restrictions, all of which are subject to change. Any unclaimed and/or unused element of the Prize by the date of the Experience will be forfeited by Prize Winner and will remain the property of Sponsor. No refund or compensation will be made in the event of the cancellation or delay of any flight. Travel is subject to the terms and conditions set forth in these Official Rules and those set forth by Sponsor's air travel prize supplier, as detailed in the passenger ticket contract issued by such supplier.
The Prize Winner must be willing to travel on the dates required by Sponsor. The exact travel dates will depend upon the date of the Experience (currently dates of the Experience are scheduled to take place on or about February 2023). The exact time, date, and location of the Experience shall be determined by Sponsor in its sole discretion and is subject to the approval of Winnie Harlow. In the event that the possible Experience opportunity listed in the Prize description does not or cannot take place as scheduled or at all, for reasons including but not limited to scheduling conflicts, cancellations, postponement, an event of force majeure, Covid-19, or for any other reason in Sponsor's sole discretion, the remaining components of the Prize shall constitute full satisfaction of Sponsor's prize obligation to the Prize winner, and no other or additional compensation will be awarded.
In the event a Prize Winner and his or her guest engages in behavior that as determined by Sponsor is obnoxious or threatening, disruptive, inappropriate, illegal or that is intended to annoy, abuse, threaten or harass any other person (or if the Prize Winner and his or her guest has in the past engaged in such behavior and that becomes known to Sponsor), Sponsor reserves the right to send the Prize Winner home and/or cancel the Experience with no further compensation.
To receive a copy of any legally required winner's list, or a copy of the Official Rules, send a self-addressed stamped envelope to Joyo Tea, 382 Northeast 191st St., PMB 85223 Miami, Florida 33179, specifying your request. All requests for Prize Winner lists must be mailed and received after the Sweepstakes is over but prior to six (6) months after the Sweepstakes has been concluded.
PRIZE WINNER HEREBY AGREES AND ACKNOWLEDGES ON BEHALF OF PRIZE WINNER AND HIS OR HER GUEST THAT ANY PHOTOS OR RECORDINGS OF WINNIE HARLOW TAKEN BY PRIZE WINNER AND/OR GUEST OR RECEIVED BY PRIZE WINNER AND/OR GUEST MAY NOT BE USED IN ANY COMMERCIAL MANNER OR FOR ANY COMMERCIAL PURPOSE WHATSOEVER.
4. SELECTION: The Prize Winner will be chosen at random. The number of eligible entries received determines the odds of winning. The Sweepstakes will be conducted under the supervision of the Sponsor. The Prize Winner will be notified by email and/or text. A Prize Winner's failure to respond to the prize notification within forty eight (48) hours will be considered such Prize Winner's forfeiture and an alternate prize winner may be selected from the pool of eligible entries. If an entrant is found to be ineligible, an alternate Prize winner may also be selected from the pool of eligible entries.
5. RELEASE AND INDEMNIFICATION: BY ENTERING THE SWEEPSTAKES, ENTRANTS FOREVER AND IRREVOCABLY AGREE TO DEFEND, INDEMNIFY, RELEASE AND HOLD HARMLESS EACH OF THE SWEEPSTAKES ENTITIES AND EACH OF THEIR RESPECTIVE DIRECTORS, OFFICERS, MANAGERS, MEMBERS, EMPLOYEES, AGENTS, REPRESENTATIVES, SUCCESSORS AND ASSIGNS (COLLECTIVELY "RELEASEES") FROM AND AGAINST ANY AND ALL LIABILITIES, LOSSES, COSTS, EXPENSES, DAMAGES, RIGHTS, CLAIMS, LAWSUITS, PENALTIES, PROCEEDINGS, JUDGMENTS AND ACTIONS OF ANY KIND ARISING IN WHOLE OR IN PART, DIRECTLY OR INDIRECTLY, FROM (A) THE SWEEPSTAKES AND THE ENTRY, PARTICIPATION OR IN ABILITY TO PARTICIPATE IN ANY SWEEPSTAKES-RELATED ACTIVITY, (B) THE ACCEPTANCE, RECEIPT, DELIVERY, POSSESSION, ATTENDANCE AT, TRAVEL RELATED TO, DEFECT, USE, INABILITY TO USE OR MISUSE OF ANY PRIZE AWARDED IN CONNECTION WITH THE SWEEPSTAKES, INCLUDING WITHOUT LIMITATION PERSONAL INJURY, DEATH, AND/OR PROPERTY DAMAGE, AS WELL AS CLAIMS BASED ON PUBLICITY RIGHTS, DEFAMATION, AND/OR INVASION OF PRIVACY, AND (C) ANY ACTS OR OMISSIONS TO ACT BY THE PRIZE WINNER AND HIS/HER GUEST AT THE EXPERIENCE.
6. LIMITATION OF LIABILITY: IN NO EVENT WILL RELEASEES BE RESPONSIBLE OR LIABLE FOR ANY DAMAGES OR LOSSES OF ANY KIND, INCLUDING WITHOUT LIMITATION INDIRECT, INCIDENTAL, CONSEQUENTIAL, OR PUNITIVE DAMAGES, ARISING OUT OF ANY ACCESS TO AND/OR USE OF THE WEBSITE OR THE ACCEPTANCE, RECEIPT, DELIVERY, POSSESSION, ATTENDANCE AT, TRAVEL RELATED TO, DEFECT, USE, INABILITY TO USE OR MISUSE OF, OR ANY HARM RESULTING FROM THE ACCEPTANCE, RECEIPT, DELIVERY, POSSESSION, ATTENDANCE AT, TRAVEL RELATED TO, DEFECT, USE, INABILITY TO USE OR MISUSE OF, OR PARTICIPATION IN, ANY PRIZE AWARDED IN CONNECTION WITH THE SWEEPSTAKES. WITHOUT LIMITING THE FOREGOING, THE SWEEPSTAKES, ALL PRIZES, AND ALL MATERIALS PROVIDED ON OR THROUGH THE WEBSITE ARE PROVIDED "AS IS" WITHOUT WARRANTY OF ANY KIND, EITHER EXPRESS OR IMPLIED, INCLUDING WITHOUT LIMITATION THE IMPLIED WARRANTIES OF MERCHANTABILITY, FITNESS FOR A PARTICULAR PURPOSE, AND NON-INFRINGEMENT.
ENTRANTS ACKNOWLEDGE AND AGREE THAT THE RELEASEES ARE NOT LIABLE FOR (A) FAILED, RETURNED OR MISDIRECTED NOTIFICATIONS BASED ON INACCURATE INFORMATION PROVIDED BY THE ENTRANT WHEN ENTERING INTO THE SWEEPSTAKES, (B) ENTRIES AND RESPONSES TO WINNER NOTIFICATIONS WHICH ARE LOST, LATE, INCOMPLETE, ILLEGIBLE, UNINTELLIGIBLE, POSTAGE-DUE, MISDIRECTED, DAMAGED OR OTHERWISE NOT RECEIVED BY THE INTENDED RECIPIENT IN WHOLE OR IN PART OR FOR COMPUTER OR TECHNICAL ERROR OF ANY KIND, (C) ANY ELECTRONIC MISCOMMUNICATIONS OR FAILURES, TECHNICAL HARDWARE OR SOFTWARE FAILURES OF ANY KIND, LOST OR UNAVAILABLE NETWORK CONNECTIONS, OR FAILED INCOMPLETE, GARBLED OR DELAYED COMPUTER TRANSMISSIONS WHICH MAY LIMIT AN ENTRANT'S ABILITY TO PARTICIPATE IN THE SWEEPSTAKES, AND (D) ANY TECHNICAL MALFUNCTIONS OF THE TELEPHONE NETWORK, COMPUTER ON-LINE SYSTEM, COMPUTER EQUIPMENT, SOFTWARE, PROGRAM MALFUNCTIONS OR OTHER FAILURES, DELAYED COMPUTER TRANSACTIONS OR NETWORK CONNECTIONS THAT ARE HUMAN, MECHANICAL OR TECHNICAL IN NATURE, OR ANY COMBINATION THEREOF, INCLUDING ANY INJURY OR DAMAGE TO ENTRANT'S OR ANY OTHER PERSON'S COMPUTER RELATED TO OR RESULTING FROM THE SWEEPSTAKES.
SOME JURISDICTIONS DO NOT ALLOW THE LIMITATION OF LIABILITY FOR PERSONAL INJURY, OR OF INCIDENTAL OR CONSEQUENTIAL DAMAGES, SO THIS LIMITATION MAY NOT APPLY TO YOU. IN SUCH JURISDICTIONS, THE LIABILITY OF JOYO TEA IS LIMITED TO THE GREATEST EXTENT PERMITTED BY LAW.
7. GENERAL CONDITIONS AND IMAGE RELEASES: An entrant or the Prize Winner may be disqualified from the Sweepstakes if he or she fails to comply with each provision of these Official Rules, as determined in the sole discretion of the Sponsor. Participation in the Sweepstakes is at entrant's own risk.
As a condition of redeeming the Prize, the Prize Winner hereby grants the Sweepstakes Entities the right to photograph and/or record his or her Experience and other participation and performance at the Experience and use such recording, and the Prize Winner's name, likeness, image, voice, statements, biographical data and performance in perpetuity, in any media or manner now existing or hereinafter devised in connection with the promotion or advertising of the Sweepstakes Entities' products and services, without further compensation or the necessity for further consent.
Any person attempting to defraud or in any way tamper with the Sweepstakes will be ineligible for the Prize and may be prosecuted to the full extent of the law. Sponsor reserves the right to modify these Official Rules in any way or at any time. Sponsor reserves the right, in its sole discretion, to modify, cancel or suspend the Sweepstakes should viruses, bugs or other causes beyond Sponsor's control corrupts the administration, security or proper play of the Sweepstakes, or for any reason that Sponsor believes in good faith would be fair to the entrants and the conduct of the Sweepstakes. In the event of cancellation or suspension, Sponsor shall promptly post a notice on the Website to such effect.
8. AGREEMENT TO ARBITRATE AND CLASS ACTION WAIVERS: BY PARTICIPATING IN THE SWEEPSTAKES, ENTRANTS AGREE THAT ANY AND ALL DISPUTES, CLAIMS AND CAUSES OF ACTIONS ARISING OUT OF OR CONNECTED WITH THE SWEEPSTAKES, OR ANY PRIZE AWARDED, SHALL BE RESOLVED INDIVIDUALLY AND SETTLED EXCLUSIVELY IN BINDING ARBITRATION PURSUANT TO SECTION 26 OF THE TERMS OF SERVICE.
9. MISCELLANEOUS: The Sweepstakes shall be governed by California law. The invalidity or unenforceability of any provision of these Official Rules will not affect the validity or enforceability of any other provision. In the event that any provision of the Official Rules is determined to be invalid or otherwise unenforceable or illegal, the other provisions will remain in effect and will be construed in accordance with their terms as if the invalid or illegal provision were not contained herein. Sponsor's failure to enforce any term of these Official Rules will not constitute a waiver of that provision. When terms such as "may" are used in these Official Rules, Sponsor has sole and absolute discretion. Entrants agree to waive any rights to claim ambiguity of these Official Rules. Headings are solely for convenience of reference and will not be deemed to affect in any manner the meaning or intent of the documents or any provision hereof. In the event there is a discrepancy or inconsistency between disclosures or other statements contained in any Sweepstakes-related materials, privacy policy or terms of use on the Website and/or the terms and conditions of the Official Rules, the Official Rules shall prevail, govern and control and the discrepancy will be resolved in Sponsor's sole and absolute discretion.